We are ERA


ALBANIA|AUSTRIA|BELGIUM|BULGARIA|CYPRUS|CZECH REPUBLIC|FRANCE|GERMANY|IRELAND|ITALY|KOSOVO|LUXEMBOURG|MALTA|MONTENEGRO|NETHERLANDS|PORTUGAL|SPAIN|SWEDEN|SWITZERLAND|TURKEY
We are ERA Europe
ERA Europe is one of the fastest growing residential real estate networks in Europe with 1,108+ offices operating in 20 European countries: Albania, Austria, Belgium, Bulgaria, Cyprus, Czech Republic, France, Germany, Ireland, Italy, Kosovo, Luxembourg, Malta, Montenegro, the Netherlands, Portugal, Spain, Sweden, Switzerland and Turkey.
ERA Franchise Systems, LLC is a global leader in the residential real estate industry with more than 50+ years experience in developing consumer-oriented products and services.
A Proven System
Acquire a brand that has been successfully implemented in diverse European markets.
Full Management Support
A proven track record for developing successful Master Franchise companies
Global Resources
A global leader with more than 50 years experience in developing consumer-oriented products and services
Global Presence
+
Worldwide Sales Associates
The ERA network includes approximately 36,109 sales associates worldwide and 2,286 offices in 37 countries and territories worldwide. Each office is independently owned and operated. ERA Real Estate is a subsidiary of Anywhere Real Estate Inc. (NYSE:HOUS) formerly Realogy, a global leader in real estate franchising and provider of real estate brokerage, relocation and settlement services.
ERA Europe Market Survey Report
Stay informed about the dynamics of your housing market!
The ERA Europe Market Survey Report is a unique summary of the residential housing sector complied by ERA Europe together with ERA Country managers – experts who are the best informed on the residential real estate brokerage sector in their respective markets.
This report offers a comprehensive review on the dynamics of the residential real estate market in many diverse European countries; it compares 2016 to 2018 key residential real estate figures, while offering an outlook for the remainder of 2019.
Within the report ERA Europe Master Franchise managers set forth country statistics (as available upon date of publishing) from reliable sources such as governmental statistical offices, bank and mortgage institutions, industry experts; and more importantly an analysis of trends based on information from their respective ERA broker networks and their skilled insights.
There are often variations from country to country within Europe regarding the compilation of statistical data, being that each country is at various stages of development in the residential real estate sector. Therefore, the expertise of the country Managing Directors and their keen market perceptions bring a fresh, first-hand outlook to each market report.
In the 2019 analysis, we observe there is very positive growth and stability in the housing market overall. Interest rates remain at highly favorable levels in most markets, a factor that continues to spur investment into the residential sector. Most buyers favor a fixed rate mortgage over a variable rate mortgage. Prices in the primary country urban centers continue to peak as demand outstrips limited supply. The influx of buyers into to city centers, versus more rural areas, is a trend we see in most markets where ERA Europe is established. Nevertheless, each country has its own internal dynamics. We encourage you to view the report and consult the country of your interest. Our country Master operators are at your disposal to respond to specific requests.
With this latest report, as in all prior reports, it is our goal to keep ERA Real Estate customers informed on the dynamics of the housing sector, to bring the greatest transparency possible, with the objective to guide clients in their home purchase whether it is local, European-wide or global.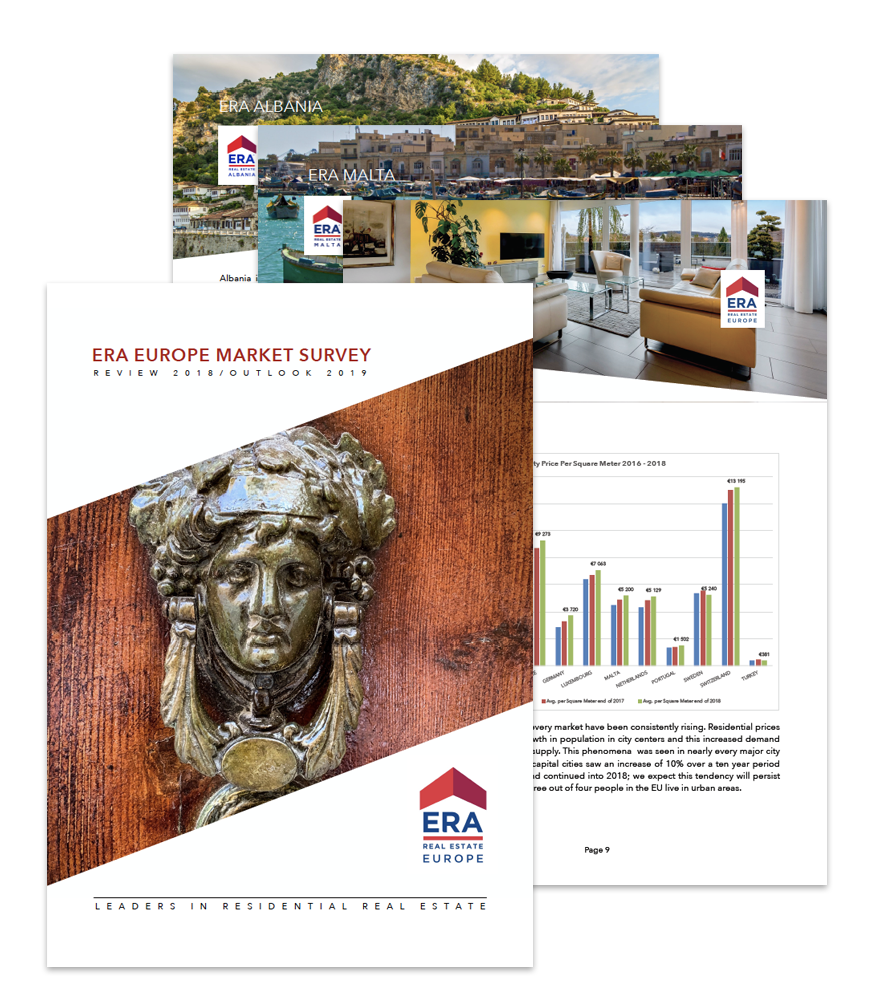 Download your copy now!
At ERA Europe Real Estate, we think of a house as more than just a piece of property. We see it as your home, the center of your family's life, a very special place where your children grow up, where you welcome your neighbors and friends, where your dreams come to life. Homes featured herein have been chosen based on their outstanding presentation, excellent condition, and exceptional value. These properties are of special interest for a select group of buyers interested in distinctive homes nestled in the most sought after, magnificent venues!
www.eraeuropeic.com